To be fit and healthy you need to be physically active. Regular physical activity can help protect you from serious diseases such as obesity, heart disease, cancer, mental illness, diabetes, and arthritis. Riding your bicycle regularly is one of the best ways to reduce your risk of health problems associated with a sedentary lifestyle. Indoor Cycling bikes are an excellent form of exercise that allows you to strengthen major muscle groups while simultaneously getting your heart pumping. Depending on your physical needs, a stationary bike can be superior to many other forms of exercise.
Benefits of Indoor Cycling
Cardiovascular and Low-Impact Workout
You can expect a typical 45 to 60-minute indoor cycling class to be fairly intense, keeping your heart pumping the whole time. This makes it a great choice for a regular cardio workout routine – but be sure to bring a towel, because you will definitely work up a sweat. Riding a stationary bike is also low-impact, so it works well for those who may be recovering from orthopedic injuries, but are ready to get back to some form of workout. Since it doesn't jar the hip, knee or ankle joints, indoor cycling is an excellent choice.
Calories
If you are hoping to shed a few pounds with your new workout routine, indoor cycling can definitely help you to burn some calories. According to Spinning.com, an hour of riding a stationary bike can burn an average of between 420 and 620 calories. While the exact amount of calories you will burn while riding a stationary bike depends on many factors, studies have shown that participating in an indoor cycling class tends to result in burning more calories. This puts burning calories on the list of top indoor cycling benefits. When you join a class, you'll enjoy the benefit of an instructor, fellow classmates and great music to help you stay focused and motivated.
Guide for the Best Indoor Spinning Bike
Resistance Levels
Look for a machine that is easy to adjust and has a variety of workout levels. Most exercise bikes have electronic resistance control. All of the tested bikes can be adjusted electronically by using the controls.
LCD screen
LCD Screen helps you in order to tell time, speed, distance and the number of calories has burned.
These details will help you keep your track for your workout and keep you motivated.
Seats and handlebars
In purchasing a cycling bike the first thing that you need to consider is the has an adjustable for the seat and handlebars
that is easier to adjust. This details will help your exercise easier.
Dimensions
Before you purchase a cycling bike you must consider first how large are indoor bikes are. because if you purchase a
bike that will occupy your space in your home especially if you have a little space in your home. The best you must purchase is
the smaller size cycling bike.
Best Indoor Cycling Bike
Sunny Health & Fitness Pro Indoor Cycling Bike
 This bike has a chain drive and a manual resistance knob that adjusts tension via a brake pad. As you turn the sensitive knob it applies more pressure to the flywheel and makes your workout that much tougher. Choose your level of resistance difficulty and you'll be on your way to burning calories like a furnace. The knob also functions as an emergency brake if pushed down.
L Now LD-582 Indoor Cycling Bike
The L Now LD-582 bike has a very modern design that attracts young and old alike. The outer shell of the bike leaves room for the air to move through all the important components. It also prevents dust and sweat from affecting the flywheel. The L Now LD-582 Indoor Cycling Bike is no exception. The 4.3-inch LCD screen on the bike is quite bigger than those in other brands. Vital stats such as heart rate, calories, time, distance, and speed are displayed.
Tauki Indoor Health and Fitness Exercise Bike with LCD Monitor
The Tauki Indoor Cycling Bike is for people who are not able to go to a gym regularly and prefer to use an indoor cycle or Spin bike in the comfort of their own home. The Tauki has a steel tube frame with a 30 lb steel flywheel that is designed to ensure stability while exercising. Resistance is regulated through a knob that is completely under the control of the user. The seat and handlebars can be adjusted vertically to provide a custom fit for users of all sizes. If you're tired of fighting over bikes in the gym or just don't have the time to get there, the Tauki Indoor Cycling Bike is worth a look.
XtremepowerUS Indoor Cycle Trainer Fitness Bicycle Stationary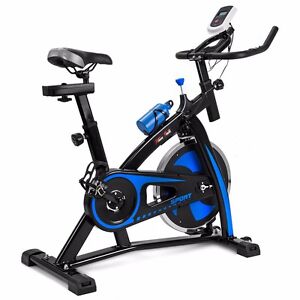 The XtremepowerUS Indoor Cycle Trainer is clearly designed to be a low-cost bike for people on a budget based on the low price point, but you could easily use this machine for indoor cycling training and for interval-style workouts to help you improve your fitness, lose weight and stay healthy. As with any low-cost exercise machine, there are of course a few drawbacks. However the early customer reviews have largely been very positive and if you continue reading this review, you will be able to read about all the main pros and cons to help you decide whether or not to buy this budget machine.
Goplus Exercise Bike Indoor Cycling Health Fitness Workout Bicycle Stationary Exercising

 Goplus Exercise Bike for excellent and professional indoor cycling. Riding this stationary bike will keep you healthy and fit. Simple appearance, effective calories consuming and durable frame are main three advantages of our Exercise bike. It can be adjusted back and forth, up and down. It provides electrodeless speed change, optimally weighted flywheel, and ultra-comfortable sports saddle. This Exercise bike is a small-size one, which is mainly ideal for children or elderly. If your figure is big and tall, this bike may not meet your needs.Simple and easy assembly is required according to the included instruction.
Unit Weight: 69 lbs; Whole Unit Dimension: 50" x 18.5" x 40.6" (L x W x H); The Distance between the Handlebars: 17.7"
Goplus Adjustable Exercise Bike, Stationary bike, Indoor Cycle Bike, Trainer For Workout Fitness
 The Goplus Adjustable Exercise Bike is simple Appearance, Effective Calories Consuming and Durable Frame. Ideal for Indoor Healthy and Fitness Exercising. It is fully adjustable saddle and handlebars making it possible for people of all body sizes to comfortably use. It Provides Electrodeless Speed Change, Optimally Weighted Flywheel, and Ultra-comfortable Sports Saddle. 
 The Sunny Health & Fitness has come a long way in the past two years, continuously improving their equipment. Although their offer includes several indoor cycle trainers, they still have released a few new models. The SF-B1509 is one of their newest for 2017.
The Sunny Health and Fitness SF-B1509 is a home use indoor cycle trainer, designed to support spin workouts of all sorts. It offers excellent micro-adjustability, dual-action pedals, quiet and smooth belt drive, and leather pad friction resistance which basically can be adjusted up to the point you can barely pedal. It's an exercise bike for users of all levels, great for light to intense cardio, interval training, and weight loss. It's not the most affordable bike in this spec range, but it's still a bargain compared with an authentic spin bike. Therefore, in case you're on a budget, or simply don't want to invest in a more expensive spin bike such as the Star Trac Spinner Blade, this Sunny exercise bike is definitely a decent alternative.
Sunny Health & Fitness SF-B1423 Belt Drive Indoor Cycling Bike
The Sunny Health & Fitness SF-B1423 Belt Drive Indoor Cycling Bike is an affordably priced spin bike. The price is even more remarkable because it comes with a belt drive. Which is usually only seen on more expensive bikes (But see pricing for another affordable option.) It also has a basic console that many spin bikes don't come with – even the more expensive ones. With a 40 lbs flywheel at first look, it looks like it has all the functionality for those cardio workouts in your own home.
Sunny Health & Fitness Belt Drive Indoor Cycling Bike, Grey
The Sunny Health & Fitness Belt Drive Indoor Cycling Bike is one of the most highly rated and popular spin bikes. But why is that?  Our review looks at this affordable bike with a simple uncluttered design that delivers on high-quality features you normally only see in bikes.  This is a low priced bike with a heavy flywheel and stable frame. It comes with a belt drive for a quiet, smooth ride. The seat is fully adjustable up and down, forward and aft and the handlebars can be adjusted up and down so as to fit many different sizes of people.
Indoor Cycling Bike by Sunny Health & Fitness
The Sunny Cycling  Bike by Sunny Health and Fitness is a solid spinning bike, equipped with all the features that matter, so you can fully enjoy a healthy workout right from the comfort of your own home. The Sunny Cycling Bike weighs 97.2 pounds and if you are wondering why it's so heavy, it's because 40 of those pounds are down to the weight of the flywheel. Finding an indoor cycling bike that's built to a budget, with such a heavy flywheel, is impressive, because of the heavier the flywheel, the smoother the resistance, and the better the workout. The flywheel also gives you much-needed stability, so that you don't experience wobbling during the more intensive sessions. The seat, the handlebars, and the resistance are all adjustable, with the power being transferred via chain.
To see more our featured items you can go to our website amazingmachines.info.