Last Updated on June 19, 2020 by MakeThingsReal
A golf push cart is as necessary to golf as the tools that you will put in it. If you are an ardent golfer, you will most likely spend a fair amount of energy moving your equipment around. Carrying your stuff is a much more comfortable task to undertake with a pushcart. Enter golf push cart accessories.
It does not matter if you are a professional golfer or not, having the right tools on the golf course will make life a whole lot easier for you. It is not enough to get a push cart; there are golf push cart accessories that you can purchase to make your time on the golf course more enjoyable and less stressful.
Here are some of the latest golf push cart accessories you can add to your pushcart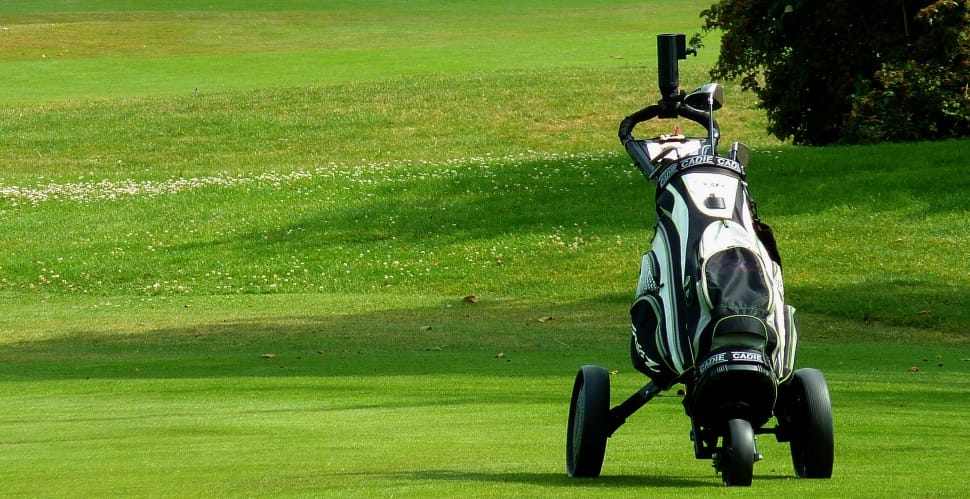 The Clicgear Cup Holder Plus for golf push carts: A cup holder may seem like a frivolous purchase, but after hours on the golf course, thirst is inevitable. It is better to have one of these handy in case you get thirsty.
The Bag Boy umbrella holder: golfing in the rain may not be your initial plan, but an unexpected downpour could happen, and you don't want to be caught unawares. Consider investing in an umbrella holder to avoid getting drenched in the rain. An umbrella will also protect yourself from scalding sunlight.
The Clicgear cooler bag: a cooler bag is an essential accessory if you are in the habit of taking cold beverages and snacks to the golf course. You don't want your cold drink water to become lukewarm after only a few minutes.
Clicgear pushcart umbrella angle adjuster mounts: these golf push cart accessories will eliminate any need to adjust your umbrella by yourself and disrupt your game.
Clicgear pushcart seat: a game of golf could go on for hours, and sometimes you don't want to stay on your feet for that long. A golf push cart seat is exactly what you need for times like that; you could take a break for some minutes or even try golfing while seated.
Big Max golf accessory mesh bag: a good quality mesh bag will last you a very long time. You don't want a bag that rips just months after use as all of your golf equipment will probably go into the mesh bag.
Pull cart utility straps: most straps that accompany your golf cart won't last very long, they will most likely wear off after a short time. It is advisable to invest in sturdy, durable, good quality utility straps.
Clicgear seed/sand bottle: If you need to reseed or repair divots, sand bottles are handy golf push cart accessories to have with you. The bottle will clip to an accessory tab quickly, and it comes with two mounting clips, for storage you can mount one clip near the lower bag support while the other clip will secure on the handle.
Clicgear cigar holder for golf push carts: a cigarette holder will always come in handy when you are on the golf course, about to play with nowhere to drop your cigarettes. You can fit a cigarette or even a pen or pencil into this cigarette holder.
Steering knob: A steering knob for your push cart is a no-brainer, and the great part is that you can steer with one hand. Some steering knobs have an ergonomic design suitable for left or right-handed players.
The Clicgear pushcart wheel cover: You will need to store your pushcart when it is not in use, the wheel cover is essential for storage and for keeping the vehicle clean. When you park your pushcart to keep it safe in extreme weather like winter, you will want to use your wheel cover to cover it up.
Golf push cart golf ball holder: If you are an organised golfer, you will see the value in owning a golf ball holder. It is also an excellent way to keep your golf ball close and handy during rounds of golf.
Rangefinder bag: Your rangefinder is an essential device on the golf course, you will have to carry it from club to club and for every round of golf. It does not matter how big or small your device is, moving it can get tiresome. This is where a rangefinder will come in handy, it will make it far easier to carry the rangefinder. Be sure to get a durable bag with a padded interior to protect your rangefinder; you should also get a bag that will give you quick access to the rangefinder.
Golf push cart rain cover: your golf pushcart probably contains all your golfing equipment, so you would not want to expose it to the elements. A golf pushcart rain cover will protect your gear during your game.
Cart gloves: mitts will serve you well especially when you are playing in bad weather. Some pushcarts come with mitts, but some don't, and you may have to buy the gloves by yourself.
Cart fan kit: It can get pretty hot, if you are playing golf in the summer, you will need a fan to keep you cool.
Visit https://amazingmachines.info for other reviews.